August Newsletter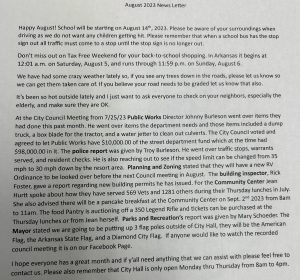 Diamond City Newsletter June 2023
School is out and summer has begun, remember to go to City Hall, fill out an application, and get your permit sticker for your golf carts or side by sides. Applications are also available at
www.diamondcityarkansas.com
under City Services then Forms. You can print the form, fill it out, then bring it with you to City Hall with payment, we will, in turn, give you a receipt and the permit sticker to place anywhere on the vehicle that is visible while riding, it's that easy.
There are 3 raised garden beds located behind and to the left of the Community Center residents are encouraged to plant what they want in them. What would you like to see grown in the Community Garden going forward? Do you want pretty flowers or food items that everyone can have access to? I'm thinking of fruits and vegetables that produce a lot of product, like Green Beans, Squash, Zucchini, Cilantro, different kinds of Peppers, Strawberries, Basil, Parsley, Tomatoes, Asparagus, Cantaloupe, and Watermelon. We need to come together as a community and make this happen because I believe there are a lot of people that could benefit from it. If we can get community support for this, we can add more beds and grow more items. This could be the start of something great for Diamond City residents.
We did have an issue with our water billing system last month, therefore the May/June water bills were mailed out later than usual. We do apologize for this but also wanted to explain that we do have until the 30th/31st of every month to get the bills out to you however, we try to get them sent out by the middle of the month to give our residents more time to get payment to us. Water bills are always due on the 15th of the month except when the 15th falls on a Friday, a weekend, or a holiday, then they are due the next business day.
Diamond City has been added to the list for the Low Income Household Water Assistance. If you need assistance in paying your water bills, please reach out to them @
arkansaslihwap.com
or call 888-985-6441. This program offers assistance up to $2000.00 for a qualified person
The last City Council Meeting was held on May 23rd, 2023 at 6:00 pm here is a quick rundown of some of what went on:
Dana Swing has resigned from her position on the board of the Sugar Loaf Water Plant. Her resignation was accepted by the council. Diamond City is now looking for a replacement board member to fill her position. Applications can be obtained at City Hall.
Archie (Sarge) Blevins was sworn in as a new reserve police officer. WELCOME TO DIAMOND CITY, SARGE! The chief wrote a letter of commendation for Officer Dan Cannon and the hard work and time he puts in. Now, if Dan can only get some much-deserved time off that would be great!
** I know there are some people out there that are not big fans of the police but they are needed to help keep Diamond City a great place to live, visit, and play. If you're not doing anything wrong, then you should have nothing to worry about. **
If you cannot attend any of the City Council Meetings but are interested in what is going on you can either watch live on the night of the meeting or watch it later, all you need to do is go to our Diamond City Facebook page and click on the meeting you would like to watch. Here is a link to the page:
https://www.facebook.com/profile.php?id=100064713637736
.
The next City Council Meeting is scheduled for June 27th 2023 at 6:00pm
There are a lot of great things coming up during the next few months and I can't wait to see the community come together and enjoy the outdoors, family, friends, fellowship, and everything the city and surrounding areas have going on. Just remember to always stay safe, wear your seatbelts, life jackets, and sunscreen, don't drink and drive any type of motor vehicle, and watch out for kids at play, and of course, the deer, that like to dart out in front of you while you drive.
**Just my 2 cents, spend it wisely**
This will be posted on our Facebook page and the Diamond City website.
2022 Diamond City Annual Drinking Water Quality Report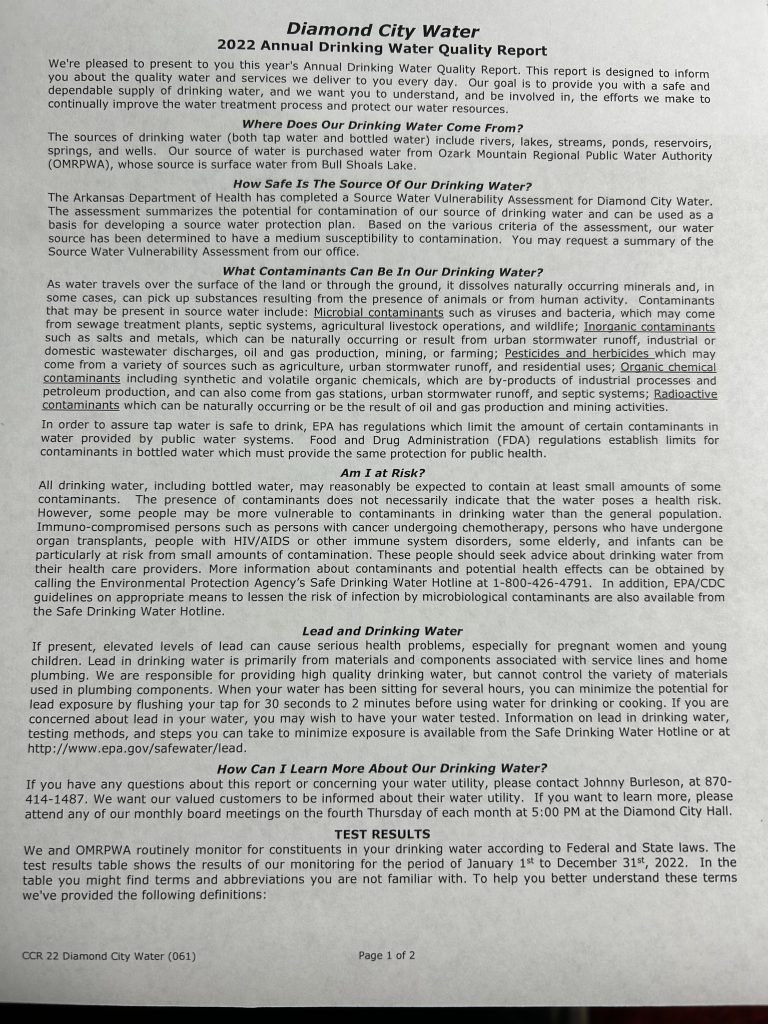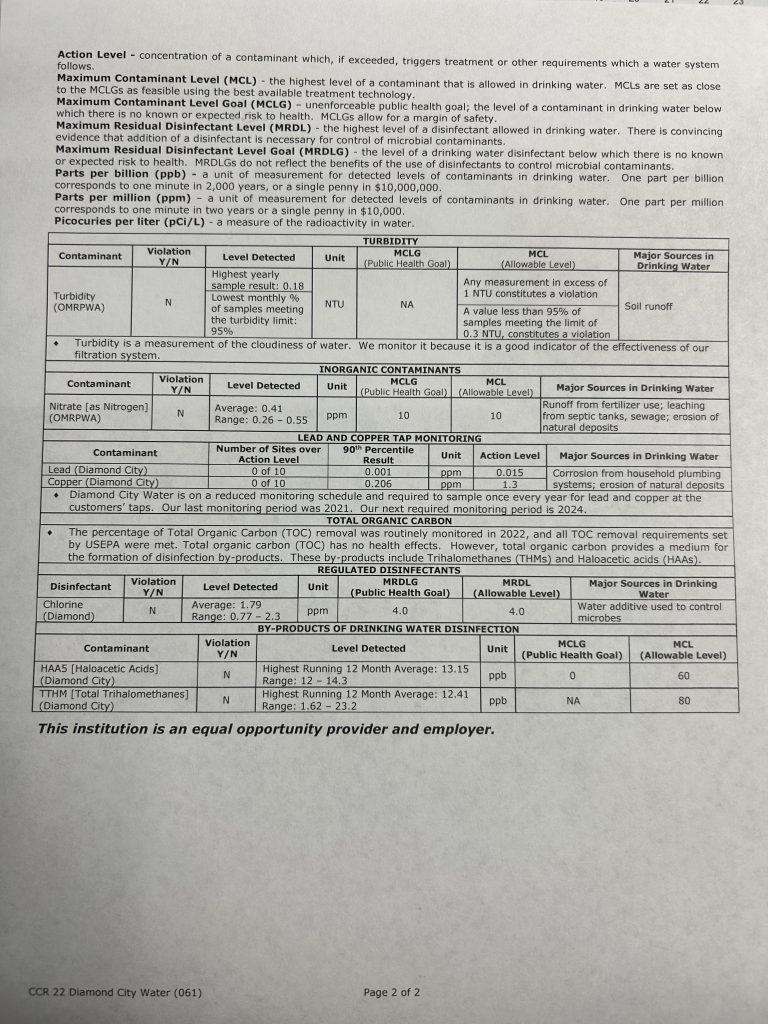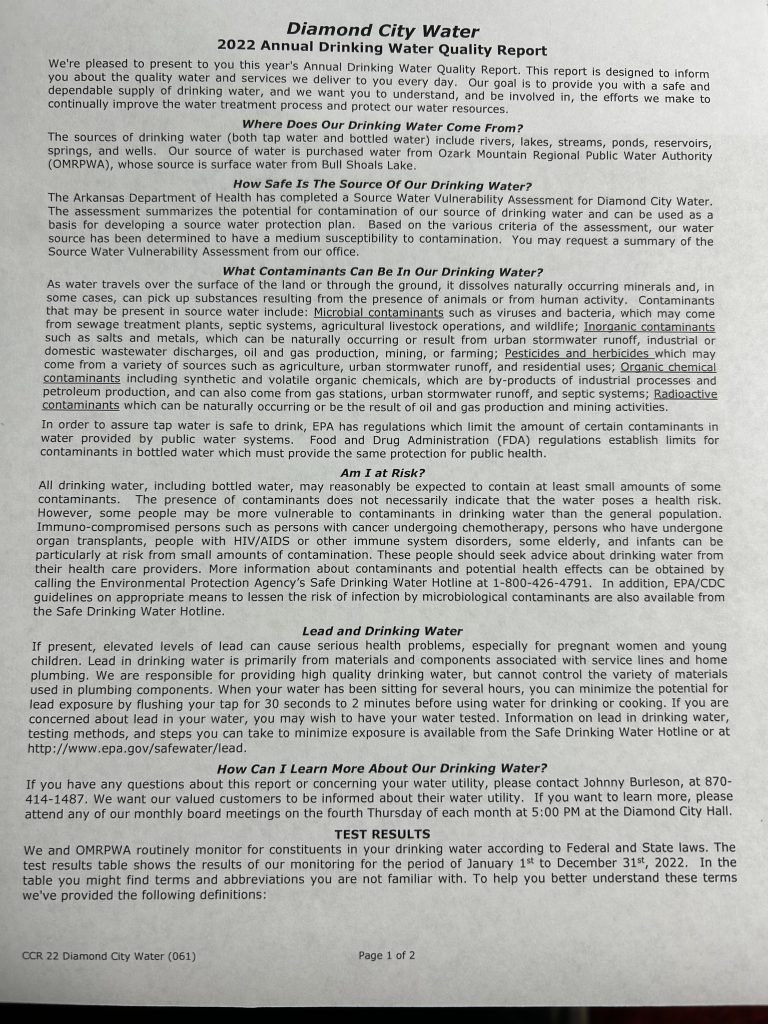 May 2023 Newsletter
The Diamond City, city council meeting was held on April 26th 2023 at 6:00 pm. Below is a recap of what went on in that meeting.
Public Works Director, Johnny Burleson went over items they have done in the last month. They got everything ready for the Community Garden. Johnny asked that if anyone had concerns on culverts or roads to please call City Hall at 870-422-7212 and they will see if they can get it on the list to be addressed by the city.
Police Chief Troy Burleson went over the police report stating how many citations were given out, dog calls, warrants served, and resident checks. He also advised that in a few weeks he will be teaching a training class for reserve police officers. Applications can be picked up at City Hall or printed from our website www.Diamondcityarkansas.com.
Casey Greer went over the Planning and Zoning minutes and the city council voted to approve Kari Coolidge to become the newest member of the Planning and Zoning committee.
Jean Hurtt advised that to date the Community Center has served 298 Vets and 673 others. Beginning May 11th from 9am-1pm we are going to start the Farmers Market up again at the Community Center to see if there is interest going forward to keep it going. Table rentals for this are $10.00 and you can call Jean Hurtt to reserve one. We will also be having a pancake breakfast on May 27th, 2023 from 8-11am.
The next city council meeting is set for May 23rd at 6pm.
If anyone would like to see the meeting for themselves it is posted on the Diamond City Facebook Page.
The City-Wide Garage Sale was on April 28th and 29th and whatever did not sell and you want to discard can be put out on the curb for the big trash pick up that is set for May 3rd 2023.
We are getting a lot of calls regarding roaming dogs, please be aware that we do not have an animal control officer nor do we have a place to house these roaming animals if they were to be captured. You can still call City Hall about them but we may not be able to send anyone out to always follow up on the calls.
School lets out for the summer this month so please be aware that there may be more bicycles on the roads and just keep your eyes open for them. 
Please do not forget to come to City Hall to get permits for the side by sides or golf carts you will be driving on the roads in Diamond City this summer. Also, if anyone is still interested in Downstream Meters, please come in a fill out the required form. There is no deposit due as we are going to be processing everything through our water billing system
I will be posting a calendar of events for May so please be on the look out for that.
Again, I ask that if there is anything y'all would like to see in a monthly news letter that you please let me know.
Diamond City Newsletter
April 2023
The Diamond City city council meeting was held on March 28th, 2023 at 6:00 pm. Below is a recap of that meeting:
Public Works Director Johnny Burleson advised that some roads are starting to be graded. If you believe your road needs grading, please let us know at City Hall, and we will get Johnny or one of the other Public Works guys to go out and check it out. The tractor was fixed, and at a price that was less than originally quoted, which was great for the city.
Chris Cline from Planning and Zoning advised they are looking at RV Parks and getting more information as to what can and cannot be done within the city limits. They are also looking to add one more person to the P&Z committee. If you are interested, please go to the next meeting, which is on April 12th, 2023, at 7:30 pm.
Jean Hurtt of the Community Center advised that in the month of March, they served 218 Veterans and 510 others during their Thursday Veterans' lunches. They are also looking to re-start the farmers market up again beginning in May. Every Thursday, the ladies at the Community Center offer free lunches to all Veterans and charge $7.00 for anyone else. All proceeds go toward purchasing groceries for the next week's lunch. They also accept donations.
Parks and Recreation said the flags will go up soon for the Memorial Day and 4th of July holidays.
The next City Council meeting will be on Tuesday, April 25th, at 6:00 pm.
Downstream meters are now available on a first-come, first-serve basis. There will be a $30.00 refundable deposit required, and the meters will need to be returned to the city by Oct 31st, 2023. You can come to the city office at 319 Diamond Blvd to pick up an application and pay the $30.00 deposit.
A citywide yard sale will be happening in Diamond City and Lead Hill on April 28th and 29th. If you want your address added to the map of participants, call City Hall at 870-422-7212 and we will add it. Large trash pick-up day is scheduled for Wednesday, May 3rd. Anything you don't sell during the yard sale can be trashed and will be picked up on May 3rd.
We have a lot of good things going on this month, and we hope everyone can get out and enjoy some of the events. If you take pictures at any of the events and would like to share them, please email them to me at dcbullshoals@diamondcity.net, and hopefully, I can get them posted to our website for others to enjoy as well.
Lastly, there have been a lot of pet thefts going on of pure-bred animals. Please, keep your eyes and ears open, and if you see something, say something. These pets are someone's babies and are missed terribly. If you happen to have any information regarding the thefts, please feel free to reach out to us at 870-422-7212. Let's work as a community to try and deter the thefts and bring these babies home where they belong.
If there is anything y'all would like to see in a monthly newsletter, please let me know so I can attempt to make it happen. All ideas and suggestions are appreciated.